Perth rent holds steady as market tightens: Domain Rental Report
20th March, 2020
Perth's tightening rental market is bringing renewed confidence from investors as rents hold steady and yields increase, experts say.
Over the past year, median house rents were still up by 2.8 per cent, and unit rents were up by 3.3 per cent.
"The fact that rents are holding steady for the quarter is a sign that the market is tightening because it's going from quite big falls," Domain economist Trent Wiltshire said.
"It looks like it's at a turning point or at least bottoming out."
He said vacancy rates were also lower – dropping to 2.5 per cent from 3.5 per cent in the year to December 2019.
"That's below the peak of 5 per cent from 2017," Mr Wiltshire said. "It's much better than they were, though for renters, if rents start growing it's not a good thing – but the turnaround is a sign that the overall economy is improving."
He said despite this, Perth was still the cheapest capital city in the country to rent for both houses and units.
"You would not have believed that five or 10 years ago," he said "But Perth is a riskier market – it sees bigger booms and busts, because it's so exposed to the mining sector."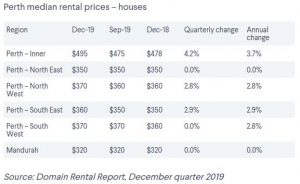 The report also showed Perth had the highest increase in rental yields in the country in the year to December, with investors now seeing median returns of 4.6 per cent for houses and 5.2 per cent for units.
Real Estate Institute of Western Australia president Damian Collins said investors were starting to find Perth an attractive option because house prices were still comparatively low.
"Our rental yields here are high – when you're looking at Sydney or Melbourne where they're around 3 per cent, and when you can borrow at 3 per cent interest, it's a pretty compelling rental return," Mr Collins said.
"What we've seen across the board is the oversupply in established areas is pretty much gone. Certainly for houses there's definitely a shortfall of properties within that 15 kilometres of the city."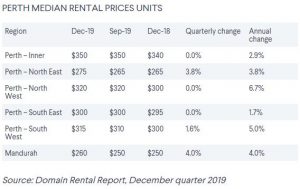 Mr Collins said low vacancy rates were creating more competition among renters.
"There's 20 per cent fewer properties for rent," he said. "It's been a very busy, buoyant start to the year with lots of people through and lots of applications."
The Perth inner area, which included northern suburbs from City Beach to Mosman Park and over to Inglewood, saw the highest rise in house rents for the quarter, up 4.2 per cent to $495. Meanwhile Mandurah saw the highest growth from unit rents, up 4 per cent to $260 per week.
Acton Real Estate director Travis Coleman said the increased prices in the inner suburbs reflected a renewed interest in mining in the state, with people moving to Perth from other cities.
"Also people who might be out of the market and renting for a year, or perhaps building a home elsewhere, are wanting to rent in those areas and take advantage of good school zones," Mr Coleman said.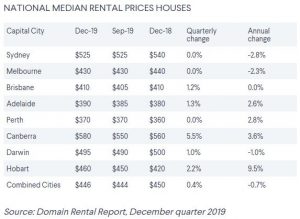 Mr Collins said fewer people were leaving Perth for the east, and that population growth had increased to about 1.1 per cent from a low of 0.7 per cent.
"Migration's a really important indicator on the rental market because people if they're coming from interstate or overseas, they're nearly always going to rent first," he said.
He expected to see rents rise through 2020.
"By the end of the year we'll see a $20 a week rent increase, which is just over 5 per cent on average across the board. It is definitely a return to a landlord's market," he said.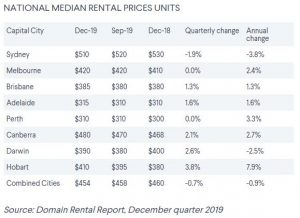 Source: Domain