The 20 Perth suburbs that have experienced price growth of 10 per cent or more in 2021
20th May, 2021
Twenty Perth suburbs have recorded median house sale price growth of 10 per cent or more in 2021.
REIWA President Damian Collins said the Institute had forecast 15 per cent price growth in Perth by the end of the 2021 calendar year, but 20 suburbs had either met that figure or were on track to exceed that figure well before the end of the year.
"A total of 20 suburbs have seen their median house sale price increase by 10 per cent or more since the start of the year.
"Bicton has experienced the strongest price growth in the first four months of the year, with its median house price increasing 20 per cent to $1.14 million between 31 December 2020 and 30 April 2021. This was followed by North Beach (up 17 per cent to $1.05 million), Sorrento (up 16 per cent to $1.118 million), and Applecross (up 15 per cent to $1.79 million)," Mr Collins said.
A mixed bag of suburbs
reiwa.com data shows a mixed bag of suburbs populate the list, with nine suburbs featuring a median house sale price below the Perth median house sale price of $508,000, while 11 sit above, with eight of those in the $1 million-plus price range.
"The recovery of the market is widespread across Greater Perth. Six to eight months ago it was mainly the higher end of the market showing strong growth, but now we are seeing movement across the board," Mr Collins said.
"From Mandurah to Yanchep, REIWA agents on the ground have been telling us that the property market is strong, and this is reflected in the eclectic mix of suburbs that have made this list.
"For these suburbs to be only a third of the way through the year and already achieving price growth of this magnitude is quite impressive. It will be interesting to see if they can maintain this momentum as the year progresses.
"If you own a home in one of these suburbs and are considering selling, now would be the time to reach out to a local REIWA agent and take advantage of these prosperous market conditions."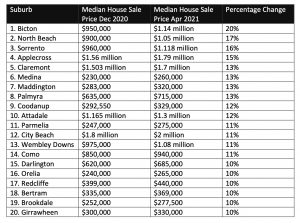 Sourced from Reiwa.com.au