Unit price growth is outperforming house price growth in 19 Perth suburbs, with Joondalup, Maylands and Rockingham the top three suburbs where unit price growth is stronger than house price growth.
REIWA President Damian Collins said it is pleasing to see units in these suburbs benefiting from the strong buyer demand and joining in on the Perth property market recovery.
"Unit prices were especially impacted during the market downturn, falling 17 per cent since their peak compared to house prices which fell 13 per cent. Typically, it takes a longer time for the unit market to catch up to houses when prices rebound, however, these 19 suburbs are bucking the trend and seeing unit prices grow at a stronger rate than houses," Mr Collins said.
Of the 19 suburbs where unit price growth is outpacing houses, Mosman Park recorded the biggest increase to its median unit sale price over the year, lifting 39.3 per cent.
"Competitive market conditions have been a driving factor of the strong unit price growth in these suburbs, with many buyers broadening their search to include units," Mr Collins said.
"In addition, many people are opting for units as a more affordable lock and leave option, getting them into affluent suburbs like Mosman Park where the median house price is nearly four times more than the median unit price."
Overall Perth unit market
Perth's median unit sale price has risen to $405,000, with 5.2 per cent growth occurring in the last six months.
"It's pleasing to see such steady growth across the Perth unit market, and we don't see this slowing down any time soon. With continued buyer demand and low available stock, more buyers may turn to units as an alternative entry into the WA property market.
"As unit prices continue to recover, we should see the gap created by the previous downturn narrow, with growth likely to continue into 2022," Mr Collins said.
The 19 Perth suburbs where unit price growth is outpacing house price growth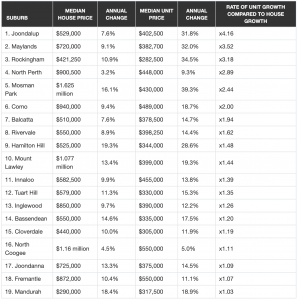 Sourced from REIWA