From gorgeous white-washed interiors, to chic light-filled spaces and stunning use of natural timber, good things really do come in small packages when it comes to Australian tiny houses.
They're so gorgeous, you might be inspired to take on a 'small' project of your own. Here are five of our favourite tiny house interiors from around Australia.
1. Modern Australian
Unsurprisingly, timber is the focus of this home, and it's perfectly complemented by clean white walls and cabinetry. Black light fittings, fixtures and window frames provide an effective contrast.
"You can't beat the smell and feel of handmade wood, and timber is the central point of the look," says Sarah Rohdich from Häuslein Tiny House Co. "Simplicity is also key – simple, contrasting blacks and whites give a clean and elegant finish and balance the character of the timber."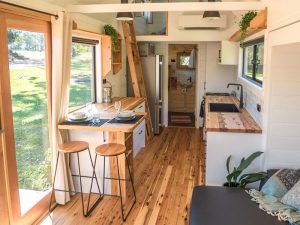 2. Hamptons inspired
Hamptons style is traditionally associated with large colonial homes – occupied by uber-wealthy New Yorkers escaping the rate race over the summer, no less – but the opulent look can be scaled to tiny spaces, says Kirsten York from York Building.
"White panelled walls, light engineered floorboards, skylights, large windows and floor-to-ceiling bifold doors achieve that much-desired feeling of space," she says. "We have carefully incorporated pops of colour in the furniture and wall papering, which so elegantly complement the neutral tones of the foundational features.
"When luxury pieces like light fittings and tapware are incorporated, they quickly become a feature piece and automatically create that feeling of opulence."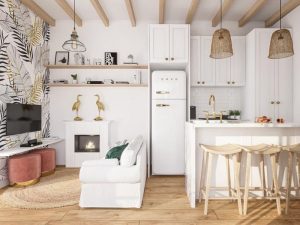 3. Japanese aesthetic
This one is almost better without fixtures and furnishings, such is the impact of the natural materials. "The structural elements are on display – normally we build with standard timber then cover it all up, but in this tiny home all of the structure is on display, including the traditional Japanese joins," says John Totenhofer from Kashimoto Studios.
The timber is a combination of Japanese Hinoki – a type of cypress that's considered sacred – and Australian hardwoods. Importantly, it's unfinished and no varnish or oil has been used. A volcanic ash render coat completes the look on several wall panels.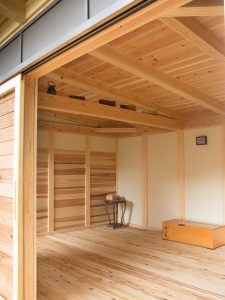 4. Light-filled contemporary
Natural light floods into this tiny home, creating a disproportionate feeling of space. Modern finishes and a simple colour palette finish the look, says Becky Emans from Designer Eco Tiny Homes.
"A variety of textures, a calm colour palette and plants create a comfortable and casual atmosphere," she says. "Get the look by adding items of similar colour – your personality will come through and create flow throughout the home."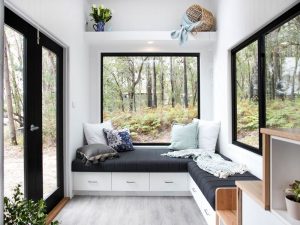 5. Steam punk
A fusion of elegant Victorian and edgy industrial, steam punk is a great option for tiny houses because it creates a warm and cosy vibe. Key elements include black, wood, copper and velvet, says Kim Connolly from Tiny Habitat Homes.
"Steam punk is old-world but it's also edgy," she says. "Think copper cogs in a wheel – that's very steam punk."
Go all out with a leather couch, an old steamer trunk as a coffee table, and chrome fittings, or choose more subtle accents like black industrial-style taps and shelves, and rich velvet cushion covers.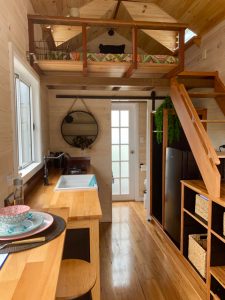 Source: Realestate.com.au