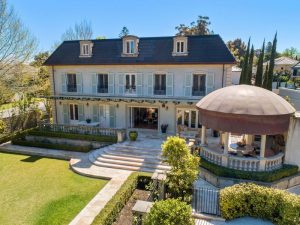 Elegant and palatial, this stunning French chateau-like mansion has been handcrafted and takes its design cues from the owners' personal travels. Set on 1381sqm of land, the luxurious estate at 61 Hobbs Street, Dalkeith is the product of Deseree and Mark Taddei's stirring memories of special jaunts abroad.
"We were inspired by everything French through our travels. Before we had kids we got the feel to one day create this home based on a place we stayed in Avignon in France," Deseree Taddei says.
"It was designed as our 'forever home' so we did go the extra mile with everything."
Elaborately planned and executed, the five-bedroom, five-bathroom home took three years to build, with the family moving in 2009. It offers a raft of trappings, including ornate ceilings, a wide gallery-style hallway, timber flooring and oversized French doors.
Standout features include an undercroft garage with parking for six vehicles, a bar and wine cellar with capacity for 300 bottles, gymnasium/studio and state-of-the-art security with five external and three internal closed-circuit television surveillance cameras. There is a dumbwaiter servicing the three levels of the home and a monitored alarm system.
Taddei says one of her favourite pastimes at home is outdoor entertaining on the terrace and the unique cabana. "It just opens up, it's just beautiful. It has a beautiful feel about it up on the terrace, looking down onto the pool and the gardens," she says.
The swimming pool is tiled entirely with Italian glass mosaic tiles, while there is Spanish travertine stone paving across the outdoor area, which includes a gas barbecue and wood-fired pizza oven.
Taddei and her builder husband decided to sell as they embark on a new project – a similar French-inspired home construction, also in Dalkeith.
"The reason we are selling is that we are building again. My husband thought he had one more build in him so it's bittersweet and pretty sad because we love this house," she says. "We future-proofed and as the kids got older we had different areas that they used and now that they've grown into adults, it accommodates them really well.
"A lot of things were custom made, a lot of the stonework – all the cupboards, light fittings – everything was bespoke.
"We just really love the relaxed feel of it and the timeless architecture."
Source: Nicole Cox, Realestate.com.au