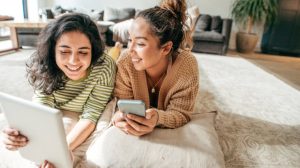 With the recent announcement made by the Prime Minister which no longer allows auctions or home opens, you might be asking yourself if you can still buy/sell your home or find your next rental property, well you certainly can.
Over the last few weeks, the real estate industry has quickly adapted their normal business practises to become as contactless as they can be. Here are just some of the solutions your real estate agent may have for each situation.
Home opens (property inspections) 
It was only a month ago we were seeing over 50 people at one home open in Perth, however agents are now limiting the number of people that are allowed at a home open. Home opens are over for now, however personal inspections are still permitted. REIWA is seeing agencies providing for inspections by appointment only. Agents are only allowing one inspection per interested group of tenants at a time, which are 15 minutes between each group, ensuring that the strict physical distancing rule of 1.5 metres is enforced.
The agent will endeavour to provide hand sanitiser or another cleaning solution and while inspecting the property you should not touch anything within the property. All internal doors and cupboards are often left open so that a full viewing experience is achieved.
Virtual tours 
If you are looking to buy, some agents will provide you with a tour via Facetime where they walk you through the property to make sure that every aspect is covered. While they may be wearing gloves and a mask the entire time, you can still ask them to stop and check certain parts of the property, whether it is checking the tap in the bathroom or opening the cupboard in the kitchen.
Other agents are conducting Facebook Live videos which provide a detailed walk through of a property that can be accessed anytime on their social media account. Also make sure to check the property listing on reiwa.com as some also include a virtual walk through and floor plans, which provide you with a more accurate description of the property.
Auctions 
Both auctions that occur within auction rooms or with groups of people standing inside or outside of a property cannot continue – however this does not mean auctions will not take place. Make sure to reach out to the agent who is conducting the auction as they could have a range of different ways they conduct an auction. Some of these include using RESO, Facebook Live or phone bidding.
Rent inspections 
Some agencies will be conducting their routine inspections through a live stream where the property manager will do the scheduled inspection through a video chat app such as Facetime or WhatsApp.
During the inspection, the property manager will ask the tenant to walk through the property and check the items on the inspection checklist, as they usually would do in an inspection.
Online forms 
REIWA agents have access to a number of online forms, which means your application or contract can be filled out online. They can then be signed through a program called DocuSign, rather than having to print out and fill out the documents in person, then get them delivered.
Source: REIWA