With active listings in Perth dropping below 5,500 this week, there are concerns we're facing a shortage of homes for sale.
But is it a major shortage of properties coming to market, or is it the high demand and speed at which buyers are snapping them up that's driven active listings to the lowest levels since mid-2010?
To answer this question, REIWA has reviewed recent statistics and trends.
Demand is keeping active listings low
Active listings are defined as those properties listed for sale at any one time on reiwa.com.
When sales activity is greater than new listings (new properties coming to the market), active listings fall.
The below graph shows sales activity. As you can see the number of sales reported by REIWA members remains at the high levels of the past few years and well above pre-COVID levels.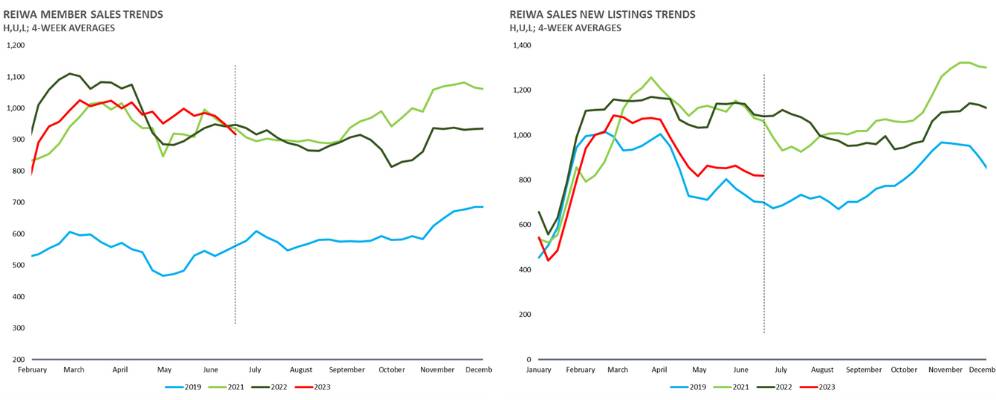 By comparison, the number of new listings is lower than recent years, but still 13 per cent above 2019. Meanwhile, sales volumes are 63 per cent above 2019.
The number of sales reported by our members each week has been 10-15 per cent higher than the number of weekly new listings since mid-April which has led to the shortfall in active listings.
Since 2010, sales volumes have usually been 15–30 per cent lower than new listings, which enabled active listings to grow. For sales to be this much higher than new listings is unusual and has only happened a few times in the past 13 years, and never for two months in a row.
Are fewer people selling?
There is definitely undersupply in other states, but Perth is in a different position. Demand has been a much greater factor in the decline in active listings here, while in East Coast markets it is a reflection of seller sentiment.
A big reason for this difference is that in Eastern States, prices dropped significantly when interest rates started to rise last year, and many sellers have been waiting for prices to recover before putting their home on the market. WA is more resilient and has held its value in the face of interest rate rises, while remaining much more affordable.
In 2021 and 2022 we saw a spike in new listings as many people who had been waiting to sell during Perth's long downturn took advantage of demand and capital growth. That spike has eased. New listings have dropped off recently as the weather has cooled. This is a seasonal trend and it's not unusual to see fewer people selling their property during the Winter months.
We are experiencing unique market conditions. With homes selling in about two weeks and the difficulty in finding a rental, many people are waiting to buy before they sell. Buyers are being discerning, so it takes more time for them to find the right property before they will list their current home. Similarly, the delay in building completions is also keeping people in their current property. As building completions increase, we expect to see more homes come onto the market.
Should buyers be worried?
Buyers need to be patient and persistent. New listings are still coming to the market. The speed of sales does mean that buyers need to have their finances in order so they can act quickly when they see a property they like. In most cases they won't have time to view a property and circle back to it in a few weeks after seeing what else comes to the market – it is likely to have sold in that time.
We do expect new listings to improve as we move into Spring and also as building completions increase, however it will be some time before we return to a traditional balanced market. Our growing population will continue to support demand for property.  In addition, more people are turning to the established homes market due to the delays and rising costs in the building industry and the challenges of the rental market.
Until these conditions ease the high demand and speed of sales will keep active listings low.
Sourced from REIWA