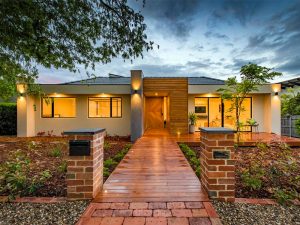 Deciding how much to spend on a house before putting it on the market is tricky. Should sellers splash out on a fancy new kitchen to appeal to potential buyers? Or just add a lick of paint?
Cosmetic updates are worth it
According to one property expert, the answer is somewhere in the middle. Cathy Morrissey, known as The Renovation College, says it all comes down to the specifics of the house in question. "The property itself is always the starting point, so it's nearly impossible to put an actual figure on it. It is true that people who invest up to $10,000 before selling can achieve a much better sale price," Morrissey says. "If you have a dated 1950s or 1960s home, in desperate need of complete renovation, it will probably cost $100,000 to bring it up to scratch for sale and that money and time invested, you simply won't get back in most areas. So, it makes no sense to pour money into it." Conversely, it can be foolish to leave a property as is, flaws and all. "When people go to an open for inspection, it's human nature to look for what's wrong," Morrissey says.
"They see flaws – the broken light fitting, the bright red, dated feature wall, maybe a hole in the plasterboard and they mentally start adding up what it will cost to repair, then take that figure off the price they'll offer.
"Vendors absolutely should do the cosmetic stuff. Either do it yourself or pay someone else to get the property to a point where the flaws aren't so obvious. Painting can make a big difference, and it's not expensive," Morrissey says.
Curb appeal matters
Curb appeal is an area where a small investment can make a huge difference. "Even if inside is immaculate, think about how the property looks from the street, as that's what people see when they drive past. "Boosting the curb appeal doesn't have to be expensive. Do a tidy-up, add a bit of mulch and some fresh, new plants, maybe paint the driveway, then buyers will want to come in," Morrissey says.
Invest in a property stylist
In many cases, the best person to engage is a property stylist, who can show vendors how to present a property in the best possible light. "They understand how to sell the vision and can suggest what small things can be done – what to keep, what to get rid of, what kind of furniture to use, how to set up rooms to maximise their appeal and impact. "It may be as simple as clearing out clutter or painting a wall here and there, but it can make a huge difference.
"Even in the case of a very dated, pink 1950s bathroom, you can scrub it clean, add some cute towels, a plant, to make it as appealing as possible, rather than a problem, and you've spent just a few hundred dollars. The less faults people can find the better!" Morrissey says. "Where you have a $1 million property, $5000 spent on a stylist can add $100,000 to $200,000 to the final sale price," she adds.
Source: Realestate.com.au