Given the opportunity to design and build from scratch, the owner of this beachside home in Perth has created the ultimate sanctuary.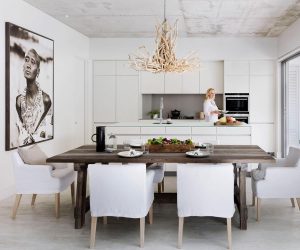 Stepping into Michelle Williams' home in beachside Perth is a peaceful experience. Inside and out, the aesthetic is a lesson in how to evoke calm and soul through the use of nature-inspired colour and texture. It's a reflection of the way Michelle likes to live and the manifestation of a very personal collaboration.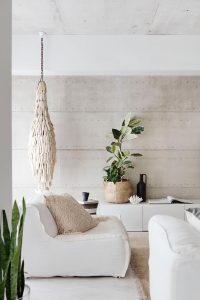 Michelle and her husband Kevin bought the vacant 355m2 corner block in 2010. Fast-forward to 2014 and the couple was finally ready to begin building. Michelle turned to three long-time friends to help make her dream home a reality: retired architect Karen, interior designer Adri-Ann Brown of Blupeter Homestore and builder Russell Smail of Lime St Projects.
Kevin and Michelle's brief was clear. "We wanted a simple home, one with an indoor-outdoor feel and no wasted space," says Michelle. "We also love having visitors – our house is like a bed-and-breakfast at times!"
When it came to pinning down the details, working with friends was a distinct advantage. "Not only do Karen, Adri-Ann and I have similar taste, I really admire their work," says Michelle. "And because we are friends, we could be totally honest with each other."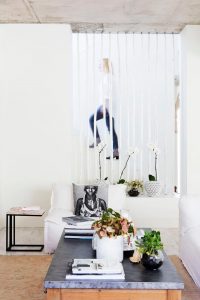 The first floor, accessed via a staircase with a whimsical balustrade of white-painted branches, contains Michelle and Kevin's generous bedroom suite, a second bedroom, second bathroom and a spacious retreat/study. The main bedroom, at the rear of the home, is a large yet minimally furnished room with floor-to-ceiling sliding doors that open to a generous balcony. It's a beautiful space as is, but the real gem is the organic-luxe ensuite, accessed via a walk-through wardrobe.
With river-pebble flooring, lighting designed to emulate the night sky and private balcony access, this serene ensuite is where you will find Michelle most Friday nights after a hectic week.
As per Michelle and Kevin's request, there's plenty of room for entertaining and a strong connection between the indoor and outdoor areas. The kitchen/dining area opens up to a covered verandah and the living zone adjoins a terrace, so there's ample space to spread out. Yet there is also intimacy: a bulkhead in the living area creates a cocooning feel and the furniture is arranged to facilitate relaxation and easy conversation.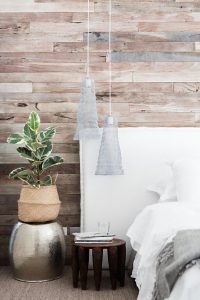 "The instant I step through the door, I feel more relaxed," says Michelle. "It's incredibly tranquil and the attention to detail makes it so special.
This is my happy place."
Source: Homes To Love