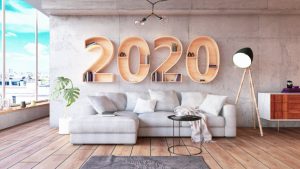 Perth sales market
REIWA President Damian Collins said market conditions throughout 2019 had been fairly mixed with sales activity fluctuating and rental activity improving incrementally throughout the year.
"We saw lower sales activity at the start of the year, followed by an uptick in the second half of 2019, while listings for sale in Perth decreased from 17,000 to 14,000 – stock levels this low were last seen in 2014," Mr Collins said. "We expect sales activity in 2020 will continue to gain momentum, however there is a possibility that rising consumer confidence levels, coupled with improved housing affordability, could translate into higher sales volumes than we have seen in the last few years.
The full impact of the rate cuts and tax reforms put in place during 2019 have not yet made its way to WA, however it is expected that the onset of these initiatives will be seen later in 2020.  "With the current low interest rates and Perth's population growth slowly but steadily improving, Perth's median house price could improve over the next 12 months. However, we do not expect this rise to be consistent across all sectors of the market," Mr Collins said.
Perth rental market 
REIWA analysis shows the upward trajectory of the Perth rental market should continue through 2020 with consistent demand in line with improving population growth and reduced supply the key drivers for this improvement. Mr Collins said the Perth rental market led the way in 2019, with stable median rents, reasonable leasing activity levels, declining listings and a plummeting vacancy rate to currently sit at 2.3 per cent.  "We are already seeing competition for good, quality stock which means we can expect this to pick up at the start of next year, and continue to gain momentum later in 2020," Mr Collins said.
Perth's overall median rent price has held at $350 per week since April 2017 – the longest period of stable rents Perth has experienced since REIWA first started recording rental data in 2001.  "We're at 32 months and counting of stable median rent prices in Perth. If listings continue to decrease, new build stock continues to decline and leasing volumes remain healthy, we should see the overall median rent price gradually increase," Mr Collins said.
"Perth currently has the lowest median house value of any major capital city. This combined with strengthening rental conditions and the opportunity to get into good suburbs at an affordable price point, means investors are likely to re-enter the market." With REIWA's 2020 outlook for the Perth rental market positive, an increase in investors looking to take advantage of the favourable market conditions will help boost the available supply of rental property, keeping rent increases to moderate levels.
Regional WA 
REIWA expects overall market conditions to improve in regional WA during 2020 as a direct result of investment in the mining sector. Mr Collins said we have already seen improvements in Karratha during the latter half of 2019 with increased rental demand and sales activity.
"In addition to Karratha, Port Hedland and Kalgoorlie are areas to watch in 2020, with the new mining projects going a long way to restoring confidence in these regions. These projects are expected to create thousands of new local jobs, which should continue to support population growth, improve demand for housing and aid recovery," Mr Collins said.  "The WA Government's push for tourism looms as another positive for regional WA, as it could provide some much-needed support to WA's tourist focused regions.
"After a prolonged period of turbulent conditions following the slowdown in the mining sector, the WA market appears to be stabilising. While the worst appears over, REIWA cautions against expectations of a rapid recovery during the next 12 months."
Source: REIWA