Glimmers of hope are ahead for Perth's property market with prices predicted to rebound in 2020, according to Domain's property price forecast released on Wednesday.
However, house and unit prices are expected to bottom out in spring and remain unchanged during the six months to December, with prices likely to stay at the June median of $520,000 for houses and $330,000 for units.
The report also says Perth house prices are anticipated to stay about 15 per cent below their 2014 peak.
Domain economist Trent Wiltshire said a rebound in Perth prices in 2020 was expected, but given the entrenched weakness in the market, only modest price growth of 0 to 2 per cent for houses and units was forecast.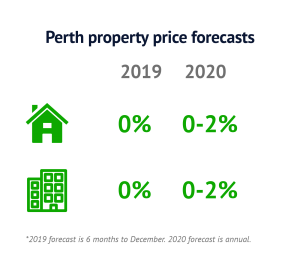 "A number of fundamental drivers of prices suggest a turnaround for Perth," Mr Wiltshire said.
"Annual population growth is predicted to increase to 1.5 per cent in 2020 (from 0.9 per cent in 2018), interest rates are lower, the Australian dollar has fallen, the mining outlook is now ​much stronger​, there is ​a growing demand for workers​ and unemployment is expected to fall.
"But this more positive outlook for Perth ​has existed for a while, and property prices have continued falling, mortgage arrears​ are rising, and more households are in ​negative equity​.
"So while we predict some price growth in 2020, there is a high risk that price falls could continue."
Bankwest chief economist Alan Langford said the recent and very likely further interest rates cuts do not harm the outlook for dwelling prices in 2020, but WA's labour market remained softer than other states, so dwelling supply needed to fall a bit further to underpin even a modest uptick in prices.
He believed that should happen next year, but established dwelling prices might yet fall by another couple of percentage points this year before they found a floor.
"Unless population growth and/or full-time employment growth pick up the pace by the end of this year, anything more than a 2 to 3 per cent rise in established dwelling prices might be a bridge too far," Mr Langford said.
Furthermore, the oversupply of dwellings in WA created during the construction phase of the resources boom was slowly being unwound, he said.
"But the demand side of the equation remains the weak link because annual population growth is still less than 1 per cent," Mr Langford said.
"Nevertheless, net overseas migration of almost 15,000 in 2018 was more than 3000 higher than in 2017. Moreover, while a net 9500 people left WA to live elsewhere in Australia last year, that was down from 12,800 the previous year.
"On the flipside of modestly higher total migration, natural increase was more than 1000 lower in 2018, but still added 18,600 to WA's resident population last year."
JLL WA valuation area manager and buyers' advocate Sarah Ronaldson said stability in the house and unit market was likely, but the future supply of apartments was relatively high and therefore could result in downward pressures on unit prices.
"Uncertainty still dominates the Perth market with buyers and investors still hesitant to commit after many were left empty-handed after the last property boom," Ms Ronaldson said.
"A general economic downtown coupled with slower rates for population and employment growth have contributed to the state of the current market.
"Optimism continues to present itself, though, with increased investment forecast for the mining sector, which is the key performance indicator for confidence here in WA. Increased investment in this sector will assist with more job opportunities and population growth, which has been stagnant over the past five years."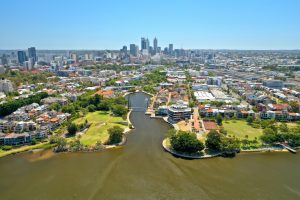 Realmark Coastal managing director Sean Hughes said green shoots of recovery in the market were emerging, with more buyer inquiry from people who were well prepared and ready to buy.
"There are always 'pockets within pockets' and 'markets within markets', but generally we feel that the pricing cycle for houses has already bottomed," Mr Hughes said.
"We are seeing leading indicators – like the top end moving at an increasing pace – as a testament that the rest of the market is due to follow. Our weekly volume of enquiry across a wide range of properties in Perth continues to increase along with our enquiry from interstate and overseas buyers."
By : Lisa Calautti, Domain