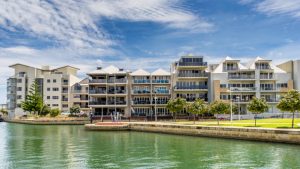 Perth's unit median price has strengthened in the June 2019 quarter improving by 3.9 per cent to $385,000 and median house price stabilising since last quarter.
REIWA Deputy President Lisa Joyce said while sales activity remains soft, is it a good sign that prices held up over the last quarter.
"reiwa.com data indicates Perth's median house price would settle at around $490,000, stabilising since the last quarter and the first time we have not seen a decline since the December 2018 quarter.
"What is also interesting are the suburbs that are showing the highest median growth in June 2019 vary across all price ranges. At the higher end, Hillarys and Wembley Downs saw an increase of 1.8 per cent and 0.7 per cent over the quarter, with a significant increase of 9.9 per cent and 4.8 per cent since June 2018.
"The middle end of the market performed the best with East Victoria Park showing the biggest growth of 4.4 per cent to $648,000, followed by Kardinya and Padbury at 0.8 and 0.5 per cent respectively. At the lower end of the market, Tapping and Meadow Springs showed a growth of 2.1 per cent to $480,000 and 1.4 per cent to $365,000," Ms Joyce said.
Sales activity
reiwa.com data shows there were 6,649 sales recorded during the June 2019 quarter which has seen a decrease of 23 per cent since March 2019.
"It is not unexpected to see sales volumes decline during the June quarter, with the onset of winter having likely contributed to subdued activity levels, and we can expect to see this pick up again in spring," Ms Joyce said,
Perth's top selling suburbs for house sales during the quarter were Baldivis, Thornlie, Ellenbrook, Dianella and Canning Vale, while the suburbs to record the biggest improvement in house sales activity were East Victoria Park, Innaloo, Currambine, Ellenbrook and Wembley Downs.
"As the WA economy begins to regain strength and owner-occupier loans remain the most affordable they have been in decades, buyers are recognising there is good opportunity to secure their next home," Ms Joyce said.
Listings for sale
There were 14,847 properties for sale on reiwa.com at the end of the June quarter.
"Stock levels across the metro area have declined by 13 per cent during the quarter and seven per cent since June 2018.
"While listings for sale have declined, we have also seen a 10 per cent increase in listings for rent. This suggests that sellers are moving towards renting their properties instead," Ms Joyce said.
Average selling days and discounting
On average it took vendors 79 days to sell their property in the June quarter, while 58 per cent of vendors needed to offer a discount on their original asking price to achieve a sale.
"More sellers needed to offer a discount in the June quarter than they did during the March quarter, with the average amount they accepted, 7.9 per cent lower than their asking price.
"It's also worth noting that a significant portion (42 per cent) of Perth sellers are achieving sale prices at or above their original asking price, which suggests many vendors are heeding the advice of their real estate agent and pricing their properties in line with market expectations." Ms Joyce said.
Source: REIWA