Perth's vacancy rate has recorded its first increase in six months.
REIWA CEO Cath Hart said the vacancy rate rose to 0.9 per cent in July, affirming the Institute's quarterly property forecast.
"Perth has seen a sustained period of extremely low vacancy rates, sitting below 1 per cent for 23 out of the past 36 months," she said.
"It dropped to a 42-year low of 0.6 per cent in December 2022 and has been 0.7 per cent for the first six months of the 2023.
"This month's result is a move in the right direction, but it is still very low and vacancies are still filling quickly."
REIWA considers a balanced market to have a vacancy rate between 2.5 and 3.5 per cent. The last time it was 2.5 per cent was September 2019.
Ms Hart said the market had been experiencing unique and challenging conditions for several years, but there were signs of improvement.
"Over the past couple of years, we've seen investors leave the market in significant numbers," she said.
"In addition, delays in the building industry have disrupted the natural turnover of the market, forcing tenants who were building a home to remain in their rental properties for longer than originally intended.
"However, recently our members have been reporting more tenants moving out into their long-awaited new homes and this has been freeing up some supply.
"They are also seeing strong interest from Eastern States investors who see value in Perth prices and strong rental yields. This is slowly adding to supply as well.
"Some developers are also noting that Eastern States investors are buying blocks of land, however if they plan to build this will take some time to flow through to the rental market."
Ms Hart noted greater legislative certainty, following the State Government announcement on the Residential Tenancies Act in May, was also supporting investor confidence.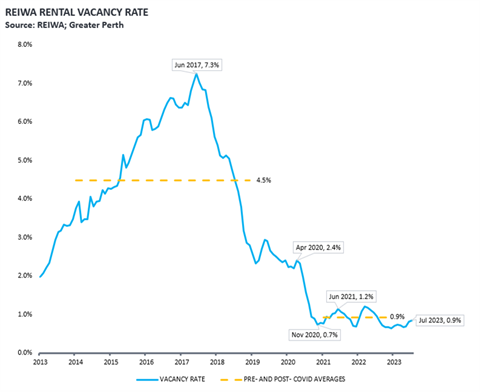 Sourced from REIWA