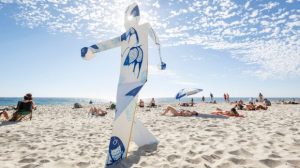 KYILLA PARK is to get a new sculpture, with North Perth artist Desmond Mah donating his contribution to this year's Sculptures by the Sea.
Homo Sapiens Sapiens (Carp Motifs) was made from steel, and explores a migrant's view of Australia.
Mah says the sculpture also aims to raise questions about racial tolerance and cultural acceptance while encouraging understanding from the community. He specifically asked for it to be placed in Kyilla with the hope it would inspire kids from the nearby primary school.
Great news Desmond Mah and City of Vincent.