THE WA property market is tipped to be one of the best in the country over the next two years but it could be at risk of higher interest rates and tighter lending standards.
Amid falling prices in the nation's biggest markets, NAB analysts said yesterday that WA and Queensland would most likely "lead the country for capital growth" this year and next. .
WA has been the worst-performed market in the country over the past three years after the end of the mining construction boom and a sharp reduction in population growth.
But tighter lending standards and an increase in supply, particularly in Sydney, has led to prices falling nationally.
NAB's measure of residential property suggests Queensland will lead the nation for capital growth this year, improving 0.7 per cent. WA was next best, with growth of 0.6 per cent tipped.
Over the next two years, house prices in WA are tipped to improve almost 2 per cent — the best of any capital city.
Prices are expected to fall 2.1 per cent in NSW this year and 1.8 per cent in 2019.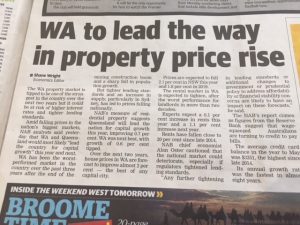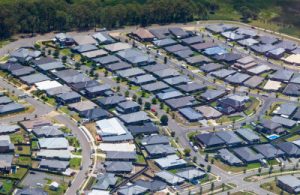 The rental market in WA is expected to tighten, after the worst performance for landlords in more than two decades.
Experts expect a 0.1 per cent increase in rents this year and a 1.1 per cent increase next year. Rents have fallen close to 20 per cent since late 2014.
NAB chief economist Alan Oster cautioned the national market could deteriorate, especially if regulators tightened lending standards.
"Any further tightening in lending standards or additional changes to government or prudential policy to address affordability or financial stability concerns are likely to have an impact on these forecasts," he said.
The NAB's report comes as figures from the Reserve Bank suggest that wage-squeezed Australians are turning to credit to pay bills.
The average credit card balance in the year to May was $3251, the highest level since late 2014. Its annual growth rate was the fastest in almost eight years.