Perth tenants should prepare for potential rent rises with median house rents experiencing their strongest annual growth rate in more than six years, new figures show.
Median asking rents for Perth houses grew 5.7 per cent in the year to September to $370 per week, which was the strongest annual growth rate since June 2013, according to the Domain Rental Report for the September quarter released on Wednesday. While the strengthening of Perth's rental market during the past year is not good news for tenants, it points to broader signs of a turnaround in the WA property market and the economy.
Perth units also experienced a strong rise in rents year-on-year, at 3.3 per cent to a median of $310.
In another sign of a stronger rental market, the vacancy rate fell by 70 basis points to 2.7 per cent during the past year. Stronger population growth, combined with a slowdown in new housing construction, had seen vacant properties being slowly absorbed, Domain research analyst Eliza Owen said.
"There is stronger demand for rentals across Perth against limited levels of new supply. We know that the investment market has been pretty wary of Perth property since the decline of the mining boom so that has led to a slowdown in the delivery of new stock," she said.
"So against that we are seeing the absorption of more vacant property and more pressure on the rental market, which is leading to that increase in rents.
"This tightening of the rental market suggests that the Perth rental market has really passed its lowest point but it is good news for investors.
"For tenants at the moment, if you are able to maintain your lease on its current terms, then it is good to be aware in the current market they could be subject to increase."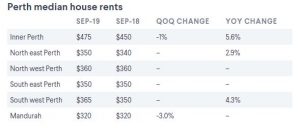 Record numbers were being registered at home opens in certain pockets of Perth with some properties leasing for asking prices or higher, Realmark Coastal managing director Sean Hughes said.
An increase in activity in the mining sector and several categories of potential buyers opting to rent rather than buy were among the factors contributing to the current state of the market, he said. Furthermore, Mr Hughes said there were currently more long-term renters, with interest from more families and retirees compared to this time last year. "Generally it feels more robust and we are receiving a greater level of inquiry," he said.
JLL WA strategic research manager Ronak Bhimjiani said a reduction in new dwellings supply, coupled with marginal improvements in leasing conditions and population growth, was providing a backdrop for improved conditions.
"As the supply-demand equation continues to re-balance, it is no surprise that the market is experiencing a marginal improvement in rents and a reduction in rental vacancy rates," he said.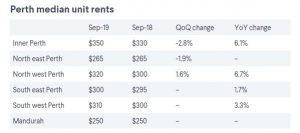 "Furthermore, the market has had a preference of renting over buying due to difficulty in obtaining finance [tighter regulations] and hesitant in purchasing in a market that continues to soften."
For landlords, the market was providing opportunities for investors to purchase and rent dwellings in a low interest rate environment, coupled with investing at a low point as far as house prices were concerned, Mr Bhimjiani said.
"For investors seeking long-term growth in asset values at low borrowing costs, now may be an opportune moment to take advantage of current market conditions.
"The recovery in rental growth will be a slow one, given current market conditions and therefore tenants are in a position to capitalise on this over the short to medium-term at least."
Source: Lisa Calautti, Domain